Badacz
Czarnoksiężnik.
Willpower: 5. Intellect: 2. Combat: 2. Agility: 3.
Health: 6. Sanity: 8.
Po tym, jak na Agnes Baker zostanie umieszczony 1 więcej żetonów obrażenia: Zadaj 1 obrażenie wrogowi w twojej lokalizacji (limit raz na fazę).
Efekt : +1 za każdy żeton przerażenia na Agnes Baker.
"Pamiętam inne życie, pełne potężnej magii i podbojów."
Magali Villeneuve
Podstawka #4.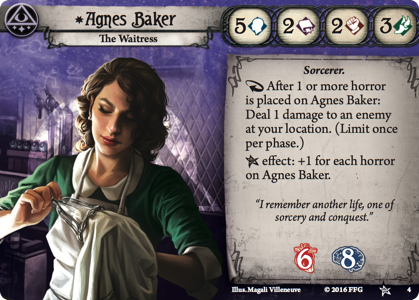 Badacz
Rozmiar talii: 30.
Opcje tworzenia talii: karty Mistyka () o poziomie 0-5, karty Ocalałego () o poziomie 0-2, karty neutralne o poziomie 0-5.
Wymogi tworzenia talii (nie wliczane do wielkości talii): Dziedzictwo z Hyperborei, Mroczne wspomnienie, 1 losowe podstawowe osłabienie.
W tym życiu Agnes Baker może i jest tylko skromną kelnerką, jednak w poprzednim była potężną wiedźmą i żyła tak długo, że dzisiejszy świat nie byłby w stanie w to uwierzyć. Wszystko zaczęło się, kiedy na strychu, pośród zakurzonych pamiątek rodzinnych znalazła dziwny artefakt, wyglądający jak finezyjny klucz. Gdy go dotknęła, zalała ją fala wspomnień i w myślach ujrzała jedno słowo: "Hiperborea". Im bardziej zgłębiała wizje i wspomnienia dawnego życia, tym większą czuła w sobie moc... i większy niepokój.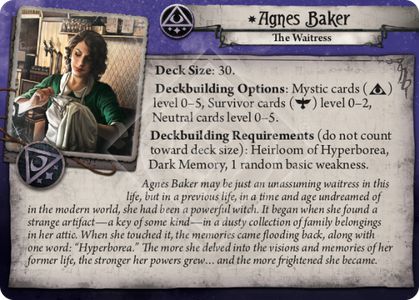 You cannot use Agnes' ability if you assign horror to an asset.
Last updated