Badacz
Czarnoksiężnik.
Willpower: 5. Intellect: 2. Combat: 2. Agility: 3.
Health: 6. Sanity: 8.
Po tym, jak na Agnes Baker zostanie umieszczony 1 więcej żetonów obrażenia: Zadaj 1 obrażenie wrogowi w twojej lokalizacji (limit raz na fazę).
Efekt : +1 za każdy żeton przerażenia na Agnes Baker.
"Pamiętam inne życie, pełne potężnej magii i podbojów."
Magali Villeneuve
Podstawka #4.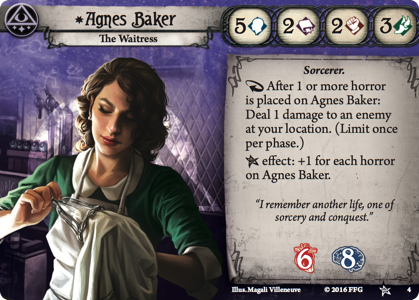 Badacz
Rozmiar talii: 30.
Opcje tworzenia talii: karty Mistyka () o poziomie 0-5, karty Ocalałego () o poziomie 0-2, karty neutralne o poziomie 0-5.
Wymogi tworzenia talii (nie wliczane do wielkości talii): Dziedzictwo z Hyperborei, Mroczne wspomnienie, 1 losowe podstawowe osłabienie.
W tym życiu Agnes Baker może i jest tylko skromną kelnerką, jednak w poprzednim była potężną wiedźmą i żyła tak długo, że dzisiejszy świat nie byłby w stanie w to uwierzyć. Wszystko zaczęło się, kiedy na strychu, pośród zakurzonych pamiątek rodzinnych znalazła dziwny artefakt, wyglądający jak finezyjny klucz. Gdy go dotknęła, zalała ją fala wspomnień i w myślach ujrzała jedno słowo: "Hiperborea". Im bardziej zgłębiała wizje i wspomnienia dawnego zycia, tym większą czuła w sobie moc... i większy niepokój.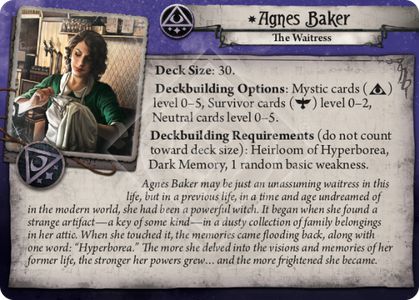 You cannot use Agnes' ability if you assign horror to an asset.
Last updated
Can I play with Agnes?
Give me the sense to wonder
To wonder if she's free
Give me a sense of wonder
If they've picked her before me
Give me the strength to hold my hand out
And pick that youthful face
Don't need xp to unlock this deck
Gonna play through it all
Break me into that bad place
[Chorus]
Can I play with Agnes?
She'd look so cool with a crystal ball
Can I play with Agnes?
Her evasion's rather small
Can I play with Agnes?
The players looked at me and laughed at me (ha ha) they said:
Can I play with Agnes?
Use blinding light, its fine, you`ll seeee
Woah, they said use blinding light you`ll see
I stared hard at the encounters
I said I'll Scry, I'll see whats below
We can prepare for this mischief
For two cards and the next
Oh then I fixed them with a freezing glance
You could see the fear in their eyes
I said you wanna know the truth son?
Well I'll show you the truth
Its an agility test needing five or higher
[Chorus]
Listen to me, said the players
[Chorus]
Can I play with Agnes?
Jesus, that is beautiful! —
lukas · 14
Can I hit the like button multiple times please? —
m3Ss1 · 1
Awesome Iron Maiden reference! —
Felagund · 441
Great. Now I gotta record a cover song and blast it everytime somebody pulls out an Agnes deck. —
H0tl1ne · 20
Thank you so much for this work of art! Up the Irons. —
humbas · 13