Atut. Mistyczna
Zaklęcie.
Cost: 3.
Test Icons:
Zużywalny (4 ładunki).
Wydaj 1 ładunek: Walka. Ten atak używa zamiast i zadaje +1 obrażenie. Jeśli podczas tego ataku zostanie odkryty symbol , , , lub otrzymujesz 1 punkt przerażenia.
Brian Valenzuela
Podstawka #60.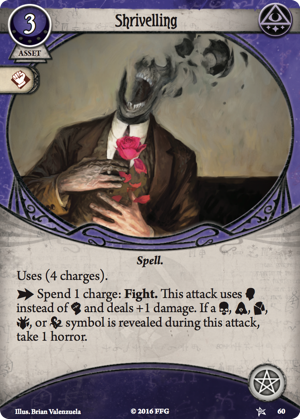 The "If a symbol is revealed..." effect triggers during Step 3 of the Skill Test Timing.
Last updated