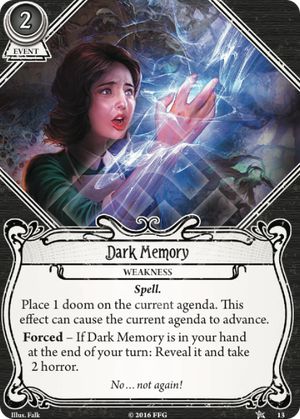 Another signature Weakness that involves making choices. Looking at the two elements, the effect and the discard condition, we get:
The effect: This is, more or less, an Ancient Evils that costs Agnes an action and 2 resources for the dubious privilege of losing a turn and maybe advancing the Agenda. The second effect, where, if you don't play it, Agnes takes 2 Horror each turn, might seem like a way to get some damage in, but the 2:1 Horror to Damage ratio isn't in Agnes's favor, even with Horror soaks like Peter Sylvestre in her card pool. You can probably take it on the chin for a round or two, waiting for (or avoiding) the Witching Hour, but it's definitely troublesome, and, in rare cases, can cost you the game. The impact is a little dependent on whether you are in a scenario with a couple of long Agendas or a number of shorter ones, but it's never good.
The discard condition: Covered above, you take an action and spend 2 resources. Being a Spell, costs can be eased by Uncage the Soul, Shining Trapezohedron, and/or Robes of Endless Night (with the level 2 version saving you the possibility of taking an Attack of Opportunity for your pains), but that is almost always scant comfort.
All in all, this is average signature weakness, perhaps above average if you really hate Ancient Evils.