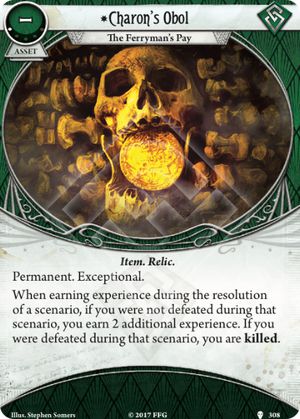 Ok, so I have a probably very niche question:
So the card reads "When earning experience during the resolution of a scenario, if you were not defeated during that scenario, you earn 2 additional experience. If you were defeated during that scenario, you are killed."
My question focuses on the last "that". My reading is that if you were defeated but did not earn any experience, you wouldn't die. Because the "that" is referring to a scenario in which you earned experience during the resolution. Is this reading correct?
Every scenario has the investigators earn experience as part of its resolution, even if the amount earned was zero, so I think your reading is not correct. To the best of my recollection, every resolution that doesn't involve the investigators being killed has the phrase, "The investigators earn X experience, where X is equal to the amount of victory points in the victory display." It is during this step that the obol would trigger and kill you, even if X=0. —
SGPrometheus · 206