Derived from
None. Self-made deck here.
Darrell snoops around to capture Evidence on his Note Book and his real Tog Material
Please don't forget to press the ♥ if you like the write-up and want to say thanks :)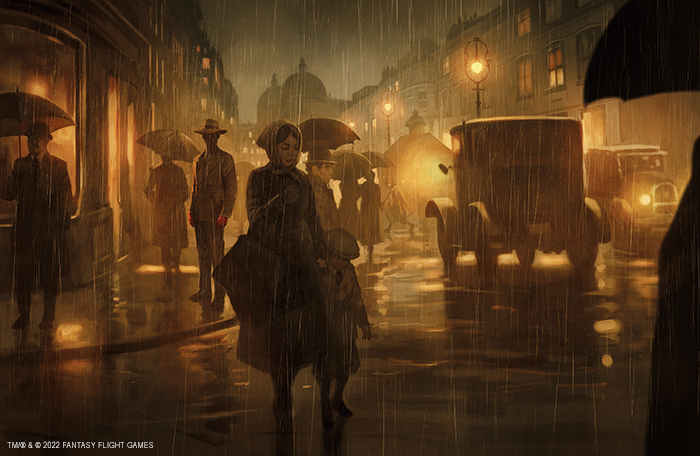 Credit: Fantasy Flight Games
---
Introduction:
Now that the Scarlet Keys - Investigator Expansion has hit the table, it's time for some deck guides with the new investigators! This deck is meant for multiplayer, with at least one other investigator dedicated to enemy management.
The number of variables may be overwhelming for beginners, requiring you to pay attention to your Evidence, keep track of the ones on cards in play, be aware of what is in your discard pile, ready exhausted assets, take additional actions, move automatically when you empty a location and drop clues. For that very reason, this is one of the most fun decks I have ever played, and it never gets monotonous!
Disclaimer: This deck guide was created before the Campaign Expansion was released. Some cards and assumptions in this guide may be made irrelevant later on. I will keep it updated with a changelog if that is the case.
---
Table of Contents:
Overview

Main Strategy

Drop Clues Forwards

Collecting Evidence

Customizable Cards

Scavenging

Other Cards

Upgrade Path

Make Your Own Deck!
---
Overview:
 
Difficulty:
★★★★☆
Enemy Management:
★★☆☆☆
Clue-getting:
★★★★★
Encounter protection:
★★★★☆
Survivability:
★★★☆☆
Economy:
★★★☆☆
Card Drawing:
★★★★☆
---
Main Strategy:
This deck is centred around 2 main mechanics:
The newly improved clue-dropping for double benefits: the direct effect obtained while dropping one or more clues and (ab)using the compensation tools introduced in this box: Research Notes and Press Pass.
The well known Scavenging (2) that plays your Items and let you commit Newspaper (2) and The Raven Quill for 2 and get them back to your hand.
---
Drop Clues Forwards:
This deck takes full advantage of the clue-dropping mechanic introduced in Dunwich and is improved in TSK. Dropping clues used to feel wrong. Gaining a clue was not only complicated and time-consuming, but it was also using cards and resources. Placing them back on your location felt like a step backwards toward the game's resolution. Let's see how this changed now:
Benefits of Dropping Clues:
The clue-dropping cards compensate for the loss in tempo with a pretty powerful effect:
Double the Gain:
This deck can drop a significant number of clues each turn, which is the fuel for our new shiny toys, turning each dropped clue into a potentially huge profit:
Newspaper (2) rewards you for dropping your last clue by giving it back to you the next time you discover a clue. This means that it works with the ability of Research Notes!

Since it is not unique, you can have 2 copies in play, increasing the speed at which you collect back your dropped clues.
Note that Newspaper (2) does not exhaust, and thus, it can be used multiple times per turn!

Research Notes collects 1 Evidence per dropped clue, and since it is not unique, you can have 2 in play. This means that with each clue dropped, you gain 2 Evidence (1 on each copy) that you can use to get clues later.

The best way to use the Research Notes is to drop clues on lower shroud locations to accumulate Evidence and collect them back easily. Then spend the Evidence on a high-shroud location to test (0) and gain clues easily.
Another positive thing about Research Notes is that you can drop clues at a non-VP location and then use the Evidence to easily empty locations with Victory Points.

Press Pass gives you an additional action if you dropped a clue during your turn. With this deck, given a few setups turn at worst, it should be possible every turn. This virtually makes Captivating Discovery or compensates for the action spent on Research Notes to get the clues back.
What's best is that it is not unique, so for the additional price of a Relic Hunter, you can get a second additional action per turn!
Synergies:
You can drop a clue with Quick Study to increase your while using the on Research Notes. This combo dramatically increases the chances of spending all your Evidence stored on one copy in a single test, while collecting an additional Evidence on your second copy!

Same goes for Analysis, which can help you to succeed by a significant number while getting all the clues dropped back.

Knowledge is Power gives an huge burst in tempo by allowing you to perform the ability on the Research Notes without spending the action and any Evidence since it ignores all costs. As this is considered on the edge of how Knowledge is Power should be used, I only used 1 copy of Knowledge is Power not to break the game completely. If you do not mind, then go for a 2nd one ASAP; if you do, remove the one copy.
Conclusion:
Once the engine is running, this deck will allow you to gain various benefits out of dropping clues: collecting Evidence, drawing loads of cards, guaranteeing success to a test, choosing your Encounter card or boosting a skill value.
All the Evidence collected will then translate into even more cards with Empirical Hypothesis, lower test difficulty with Darrell's ability and easy clues no matter the shroud value.
Icing on the cake: you will do all of this without spending any of your 3 basic actions, thanks to Press Pass.
---
Collecting Evidence:
As discussed in the earlier section, the clue-dropping mechanic will generate an insane number of Evidence. Let's review where:
---
Scavenging:
As every good Deck, Scavenging (0) and Scavenging (2) bring a fantastic value in 2 different ways:
Fast setup:
Short Supply place a lot of your Items in your discard pile from the beginning of the game. Play Scavenging (2) to play them as soon as you succeed an investigation by 2 or more (which should happen every turn). Scavenging (0) is already good to tutor your Items.

To play items from your hand , commit them to tests and then Scavenge them into play directly. Except for the Hiking Boots and Press Pass, they conveniently all commit for tests.

The Schoffner's Catalogue is here to pay for your Items since you can cycle it. Note that it says Item assets and therefore cannot pay for The Raven Quill, unfortunately.
Higher value:
Newspaper (2) and The Raven Quill are both Items that commit for , which is fantastic to play them in a loop to oversucceed. This works before you even upgrade your Scavenging.
---
Customizable Cards:
The Raven Quill is another cornerstone of this deck. You name the Research Notes and let it tick its own boxes at the end of each scenario. Before you have the Research Notes in play, you can loop it with Scavenging (2) to commit it for and return it to your hand.

For the upgrades, we will choose the Spectral Binding first, for 1xp, making the one copy of Research Notes not take any slot and therefore making it possible to replace the second copy of Arcane Enlightenment and still have 4 hand slots.
As the The Raven Quill gains more experience, we can choose Interwoven Ink, which readies another asset when we use the ability of the attached Research Notes. The assets that we can ready this way are Press Pass for another additional action during your turn and more clue-dropping shenanigans, Empirical Hypothesis to collect another Evidence during the same test, Scavenging (2) if you still have some setup to do, Hiking Boots or Quick Study in more specific situations.
You do not really need to tick any box on this card to get value, but as you run out of upgrades for your deck, there are 2 that can be interesting:
Peer review: if you do not need more card draw and want to support your team, this makes it more likely for you to gain an Evidence and get the most out of it by offering others to draw cards.

Research Grant: depending on what your team needs the most, being able to help your teammates with paying for their cards can be extremely useful, especially in the early scenario and late campaign when cards tend to become more expensive.
The interaction of the two:
To clarify the way The Raven Quill - Interwoven Ink works with Empirical Hypothesis, here is the sequence:
Disclaimer: This interaction requires an FAQ to be 100% confirmed, but as of now, it is the most probable interpretation of the rules.
---
Other Cards:
0xp Cards:
We are using Schoffner's Catalogue because, contrary to events, it is not wasted if you discard it with Short Supply at the beginning of the game. It is also since we use Scavenging (2) and if you have it in your hand, simply commit it to any test before recurring it. It also has a slightly better tempo than Crack the Case, as it won't be re-shuffled in your deck once your deck is running out of cards and, therefore, won't take one draw.

Once all your items are in play, the catalogue is not useful anymore, and Crack the Case becomes better as it brings some cash to fuel Plucky (3).
Another idea is Astounding Revelation, as you do not need to drop a clue to use it while searching your deck with Captivating Discovery. I did not go for this one because it is "only" 2 resources.
Cryptic Writings is also available as an alternative. It can be played fast when drawn via Captivating Discovery/Empirical Hypothesis and worst case scenario it commits for a .
You are free to use whichever of these cards you want to play the most, they will all do amazing.

Resourceful, as explained, compensates for Short Supply that could be trashing both Scavenging (2), affecting the set-up pace tremendously.

Deduction and Sharp Vision accelerate the rate of collecting the clues you've dropped, bringing additional tempo. We upgrade later to Deduction (2) to get another tempo boost.

Arcane Enlightenment is for holding the second Research Notes, so you can have 2 Newspaper (2) in play too. When you don't need it, it also commits for 2 .

True Understanding brings an added value, especially on treacheries like Locked Door, since you can then discover the clue before it is discarded, thus collecting the Evidence on your Kodak, which would be impossible otherwise.
Higher XP Cards:
---
Upgrade Path:
---
Scavenging x2 Scavenging (2) x2 - 4xp - Total 4xp
---
Arcane Enlightenment x1 + The Raven Quill x1 Press Pass x2 + Relic Hunter - 7xp - Total 11xp
---
Hawk-Eye Folding Camera x2 Newspaper (2) x2 - 4xp - Total 15xp
---
True Understanding x1 Plucky (3) x1 - 3xp - Total 18xp
---
Empirical Hypothesis x1 Unearth the Ancients (2) x1 - 2xp - Total 20xp
---
Lucky! x2 Quick Study x2 - 4xp - Total 24xp
---
Dr. William T. Maleson x1 Dr. William T. Maleson (2) x1 - 2xp - Total 26xp
---
Eureka! x2 Hiking Boots x1 + Knowledge is Power x1 - 3xp - Total 29xp
---
Quick Learner x2 - 8xp - Total 37xp
---
Deduction x2 Deduction (2) x2 - 4xp - Total 41xp
---
True Understanding x1 + Crack the Case x1 Sharp Vision x2 - 2xp - Total 45xp
---
---
Make your own Deck!:
To understand some of the archetypes and cards available to Darrell, there is This Great Video made by Veronica from Until the End of Time. I will try to explain here a couple of them that I have also considered and explain the strategies of each deck very briefly.

Here is another proposal for a Deck that uses Darrell's test reduction to reduce the difficulty to 0. This deck is better for True Solo and Flex and is also super fun to play!

Since Darrell can turn any test to a difficulty 0, are not an issue to him. We can imagine a Deck like this that would also take advantage of the cursed cards available, for instance, to heal himself with Spirit of Humanity or to draw cards with Deep Knowledge.

There is also a basic Scavenging (2) Darrell Deck possible that simply cycles Ice Pick (3), and other than that, is relatively similar to a Minh Deck. But come on, I couldn't come back to the community with Yet An-Other Freaking Deck using this combo.

---
To create your own guides, find the template I have created here
60 comments
Oct 12, 2022
Oct 12, 2022
Oct 12, 2022
Oct 12, 2022
Oct 12, 2022
Oct 12, 2022
Oct 12, 2022
Oct 12, 2022
Oct 12, 2022
Oct 13, 2022
Oct 13, 2022
Oct 13, 2022
Oct 17, 2022
Oct 17, 2022
Oct 17, 2022
Oct 24, 2022
Nov 03, 2022
Nov 03, 2022
Nov 03, 2022
Nov 09, 2022
Nov 09, 2022
Nov 14, 2022
Nov 18, 2022
Nov 18, 2022
Nov 18, 2022
Nov 18, 2022
Nov 21, 2022
Nov 28, 2022
Nov 28, 2022
Dec 02, 2022
Dec 04, 2022
Dec 12, 2022
Dec 12, 2022
Dec 13, 2022
Dec 14, 2022
Dec 19, 2022
Dec 19, 2022
Dec 19, 2022
Dec 19, 2022
Dec 20, 2022
Dec 23, 2022
Dec 28, 2022
Jan 01, 2023
Jan 04, 2023
Jan 04, 2023
Jan 05, 2023
Jan 05, 2023
Jan 06, 2023
Jan 07, 2023
Jan 15, 2023
Jan 16, 2023
Jan 16, 2023
Jan 19, 2023
Feb 02, 2023
Feb 02, 2023
May 15, 2023
May 17, 2023
May 19, 2023
Sep 18, 2023
Nov 05, 2023