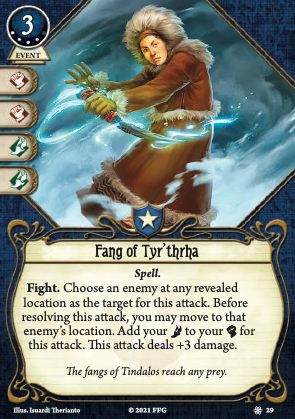 "Choose an enemy [Elite as well]... as the target of this attack."
"You may [i.e. you may choose not to] move to that enemy's location."
---
Remote damage against boss monsters and humans. Every. Single. Campaign has Elite enemies that don't spawn on you directly, either because they start a pursuit from a distance, or because they're guarding a location of interest. Springfield M1903 (with current taboo) and Telescopic Sight can only remotely target non-Elite enemies. Marksmanship and Dynamite Blast are the only cards I know off that deal remote damage to Elite enemies. As a result Fang of Tyr'thrha is occupying a relative unexplored area of fighter tech, and its pushing boundaries in the process. Here's hoping it doesn't trivialize certain scenarios.
EDIT: Oh wait, in single player games where "4 health per player" means "4 health", it DOES trivialize certain scenarios.
One challenge of this card, it doesn't engage the target if it's on another player. So massive damage if you miss and if you didn't move there, they're still alone —
Django · 4140
Indeed, but in the use case I've focused on, that is not an issue. —
Lucaxiom · 3222