Derived from
None. Self-made deck here.
Chaos Magick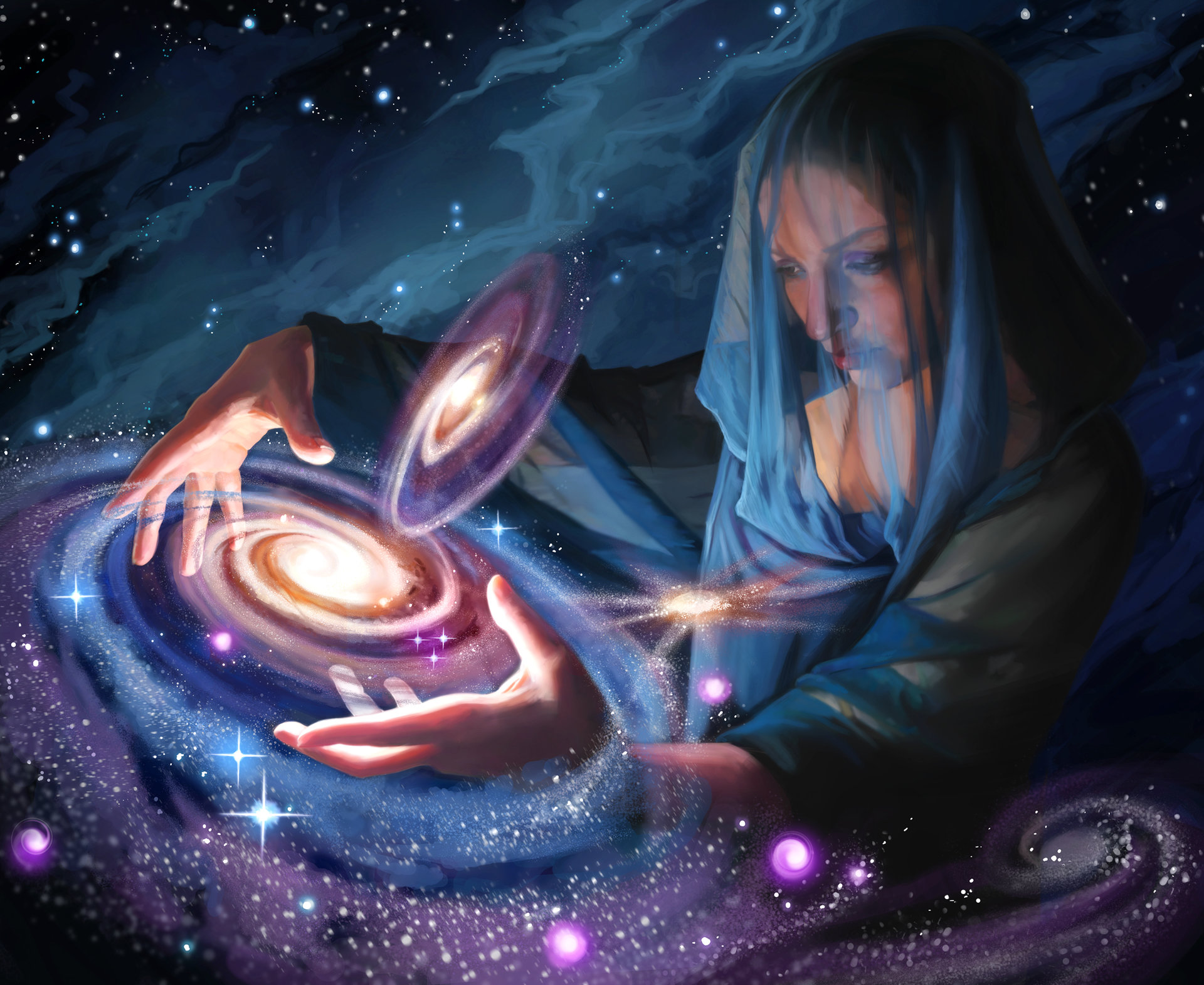 Illus. Romana Kendelic
Clue: 8.5 | Enemy Mgmt: 8 | Treachery: 9 | Tempo: 7 | Consistency: 7.5
Jacqueline is my favorite Mystic. She doesn't need out of faction splash cards. She does what other Mystics aspire to do with unparalleled consistency. This build doesn't pretend to reinvent the wheel because the core of Jacqueline's deckbuilding is generally agreed upon. However, I've done my best to refine aspects of her deckbuilding to maximize her potential. She fits any team comp, and will out-clue and out-fight your primary cluevers and fighters even as a mercurial generalist.
The strategy of this deck revolves around Sign Magick (Return to The Circle Undone) which gives Jacqueline the equivalency of 5 actions per round. Those 5 actions are further compounded by the action efficiency of powerful spells like Sixth Sense and Wither. Assuming you hit a symbol token each action, you can grab 10 clues or deal 10 damage per turn. With Eldritch Inspirations, replayed in the same turn via Prescient pulling them back for 14 clues or damage.
The reason why Wither is chosen over the likes of Azure Flame and Shrivelling is because:
Charges - No charge gives sustainability to the core engine. If you are triggering 5 abilities on spells per round, you would have to get 5 charges on charged-based Spells to maximize this build each turn.
Damage/Horror Tax - Because you test more, you're more likely to pull the trigger on Azure Flame and Clairvoyance hitting you for 1 damage or 1 horror. This is usually avoided via your investigator ability, but in builds like this where you are taking more tests with your Spells, it is better to guard against the trickle damage/horror.
Most non-Elite enemies don't have more than 4 health. In worst-case scenarios where you have to attack the enemy 5 times, you'll manage to lay 5 damage on them. The best part is that, as SOON as you kill the enemy, Sign Magick lets you swap immediately into clue gathering with Sixth Sense. If an enemy is really out of your damage reach, then evading it with Sword Cane is probably already the better play.
Snowball Effect - Damaging enemies becomes increasingly easier the more times you reduce their statline. This lets you carry over momentum and investment in the success/symbol token of your first successful fight.
Tip! - Jacqueline plays well to highly exploratory investigators and campaigns with scenarios where all of the locations enter face up with the clues already on them. Consider playing with Rita Young, Monterey Jack, Ursula Downs, Finn Edwards, Winifred Habbamock, Wendy Adams, Silas Marsh, Stella Clark, etc. Basically people who can take Nimble, Track Shoes, or Pathfinder.
---
---
Sign Magick Nonsense
Board State: 2 Sign Magick | 2 Wither | 2 Sixth Sense
: Investigate. Use Sixth Sense A. Sign Magick X let's you investigate with Sixth Sense B. Sign Magick Y let's you investigate with Sixth Sense A again. Total: 3-6 Clues.

: Fight. Use Wither A. Sign Magick X let's you fight with Wither B. Sign Magick Y let's you fight with Wither A again. Total: 3-6 Damage.

: Fight. Use Wither. Sign Magick X let's you investigate with Sixth Sense A. Sign Magick Y let's you investigate with Sixth Sense B again. Total: 1-2 Damage + 2-4 Clues.
Board State: 2 Sign Magick | 1 Wither | 1 Sixth Sense
: Fight. Use Wither. Sign Magick X and Y both on the same Sixth Sense. Total: 1-2 Damage + 2-4 Clues.

: Fight. Use Wither. Sign Magick X let's you investigate with Sixth Sense. Sign Magick Y lets you fight with Wither. Total: 1-2 Clues + 2-4 Damage.
Tip! - Lead with Wither in order to avoid Attacks of Opportunity. You can get a different combination based on chaining the Sign Magick or triggering them in tandem.
---
Symbol Chaos Tokens
---
Economy & Engines
---
Dark Future
Dark Future: Extremely annoying weakness. It's really hard to deal with this card when and tokens are added in the mix. Save up your Jacqueline ability + Eldritch Inspiration, and Olive ability to reveal 5 + (2 x 2) + 3 = 12 tokens. Interestingly, it doesn't lock you out of Sixth Sense and Wither in the sense that you're NOT looking to cancel/ignore non-symbol tokens with these 2 cards. Just be careful about the chances of drawing multiple symbol tokens that stack negative modifiers on you really fast.
---
Upgrade Path
The more icons, the earlier you need it in a campaign. When upgrading, make sure you have cleared a card with more icons before going to a lower tier if possible.
---
Alt Card Choices & Techs
47 comments
Aug 20, 2021
Aug 21, 2021
Aug 21, 2021
Aug 21, 2021
Aug 21, 2021
Aug 21, 2021
Aug 21, 2021
Aug 21, 2021
Aug 25, 2021
Aug 25, 2021
Aug 25, 2021
Aug 26, 2021
Aug 30, 2021
Aug 30, 2021
Aug 31, 2021
Aug 31, 2021
Sep 08, 2021
Sep 16, 2021
Sep 16, 2021
Sep 16, 2021
Oct 14, 2021
Oct 19, 2021
Oct 19, 2021
Oct 20, 2021
Oct 20, 2021
Oct 20, 2021
Oct 28, 2021
Oct 28, 2021
Oct 28, 2021
Nov 02, 2021
Nov 03, 2021
Nov 03, 2021
Nov 03, 2021
Nov 03, 2021
Nov 03, 2021
Nov 03, 2021
Nov 03, 2021
Dec 10, 2021
Dec 10, 2021
Feb 17, 2022
Feb 17, 2022
Apr 16, 2022
Aug 18, 2022
Aug 22, 2022
Sep 07, 2022
Apr 11, 2023
Oct 24, 2023