Derived from
None. Self-made deck here.
Who needs combo when you are a seeker with such a statline? Mandy proves that it's all about who you are.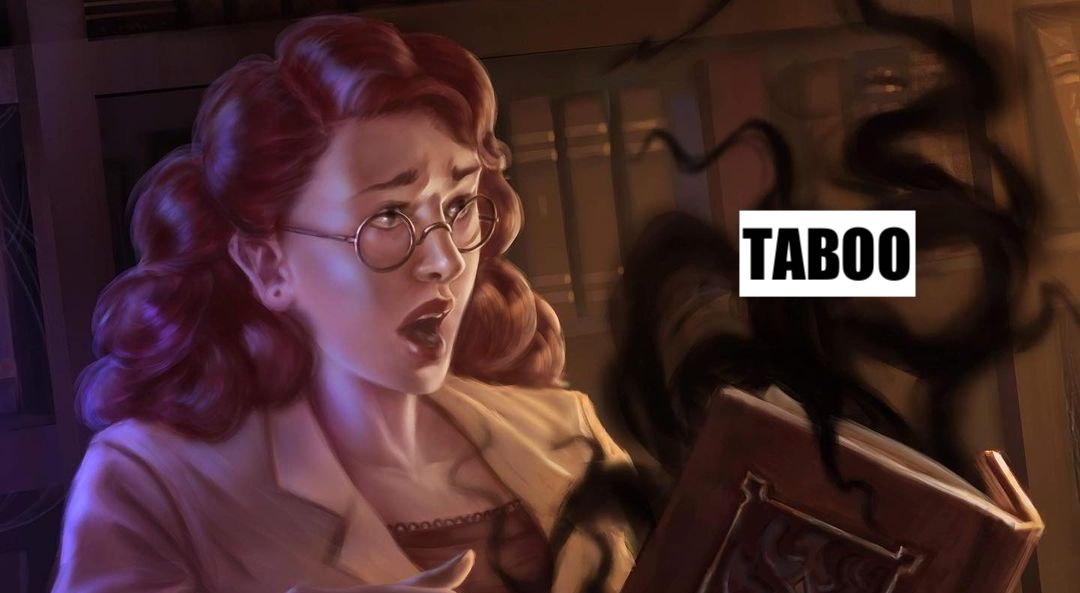 Credit: Andreia Ugrai
---
Introduction
I never was a fan of Mandy because her gameplay felt too tedious, and searching my deck takes me out of the actual story told by the game. Yet when I saw that she was tabooed, I decided it was time to revisit her and see if she still holds her spot at the top of the ladder.
This deck is very different from what I usually do. I like to build my deck around combos, and this deck is all the opposite. Every card is pure value, independent of the game state.
So you won't find Pendant of the Queen shenanigans for the simple reason that, in the current state of the game, she is probably the worst investigator with seeker access to assemble combo pieces.
But the real question everyone asks is: Is Mandy still good?
I finished my last 2 tests of Midnight Masks with 6 cultists and 4 dooms before the end of the scenario. It was never shiny, but it consistently pushed the game forward at a rhythm that felt steady yet not broken. This deck made Mandy win my heart.
---
Following the success of the 20k Series, this 30k Series will focus on the investigators that are much harder to solve. Expect some jank, some outside-of-the-box thinking and hopefully some love for the underdogs of this game.
Click here to see all the previous decks. I will keep releasing a new standalone-ready deck concept every week on Friday, so stay tuned and keep supporting the Series by pressing the ♥ button if you want to see more!
---
Table of Contents:
Overview

Main Strategy

Playing as The Researcher

Thinning Your Deck

Tempo Acceleration

"You have gorgeous (stat)lines, Mandy."

Other Cards

Upgrade Path

---
Overview:
 
Difficulty:
★★★☆☆
Enemy Management:
★★☆☆☆
Clue-getting:
★★★★★
Encounter protection:
★★★★☆
Survivability:
★★★★☆
Economy:
★★★★☆
Card Drawing:
★★★★☆
---
Main Strategy:
Search the cards most adapted to your situation.

Thin your deck with a steady flow of cards and fast events.

Accelerate the tempo with multiple double-clue options

Pass any test the Mythos throws at you with your ideal stat line and some support skills.
---
Playing as The Researcher:
Search Cards:
Usually, building a Mandy deck starts with typing x:search in ArkhamDB's Deckbuilder and adding every single option. This deck chooses a different approach, more based on steady search engines:
Guided by the Unseen is a contentious one. It is arguably the best to pull all your Research-trait cards, but it is tedious to use in practice.

The FAQ stipulates that you can use it on literally any test at your location, and since it doesn't exhaust, you can do it for every single test once it hits the table, twice per test when you have both.

If playing the game physically, you could choose to only shuffle your deck at the end of an action or the round. It is not perfect, and it increases the number of cards you will find through the searches, but if this makes it easier/less strenuous to play, then it's an option.

This insane frequency of search actions will undoubtedly pull most of your search cards. During mulligan or setting up, this card should be your priority.

To increase the pace at which you set up your game, Mr. "Rook" is well-balanced in this deck. He digs far, finds your weakness early, and once he is empty, he is a good meat shield. He is a second priority for mulligan.

Because of the high number of Practiced skills, Practice Makes Perfect is a good one-of.

Eureka! is the last little boost of research that is always good to have in Mandy.

Finally, if you still end up drawing Research cards, and you want to place them back in your deck, you can use Glimpse the Unthinkable (1) to put them all back in one go.
Search Targets:
Occult Evidence is one of the most important of course.

Make sure always to spend your Mr. "Rook" search action on a location with a clue in case you find it.

Astounding Revelation can be used in two ways:

To refill your Grim Memoir. I wouldn't recommend doing it on Mr. "Rook" as 3 actions should be enough to get what you need most and then use him for his soak.

My favourite option is to get the resources which pay for our set up and later for aggressively cycling Winging It.

Surprising Find can be added to the deck instead of Nature of the Beast and True Understanding.

It is usually a counterproductive card, as it may draw you the cards that you'd like to research. Still, since most of your searches are during tests with Guided by the Unseen, it's efficient to dig through your deck.

---
Thin Your Deck:
50 cards is a lot, and it is good to pair search effects with a solid draw engine to get a decent chance to find your essential cards.
---
Tempo Acceleration:
All this is good, you may say, but what's the point of all this research and drawing?
Well, the answer is simple: and events and skills.
Clue acceleration:
This deck benefits from a variety of ways to increase your yield in clues:
Basic Tempo:
Tempo is not all about clues. Being able to ramp up resources quickly, move fast or deal 3 damage in one action is also what will make the game feel much easier.
"You have beautiful (stat)lines, Mandy."
A true Arkham Lover will recognise a perfect statline, 5 in your primary stat, 1 in your useless stat and 3 in both defensive stats.
Guts and Manual Dexterity, pumped by Grisly Totem (3) make for a solid 6 in your defensive stats.

The deck has tons of , , and icons to use.

Once I find my Occult Evidence, I usually don't spend actions placing them back in the deck. Instead, I commit them to a scenario test, leveraging their icon.

True Understanding is a great way to leverage this capacity to pass scenario tests reliably.
---
Other Cards:
In the Thick of It is good to get some early boon. Because the Mythos is not a bother, I recommend balancing your start by taking 2 mental trauma.

Magnifying Glass is always great and works well in this deck that tests book vs shroud regularly.
Upgrades:
---
Upgrade Path:
Disclaimer: This decklist is published in the version that I tested. These decks are made to be as versatile as possible, so don't forget to adapt them to your campaign and change the upgrade order around based on your experience.
---
---
---
---
To create your own guides, find the template I have created here