Derived from
None. Self-made deck here.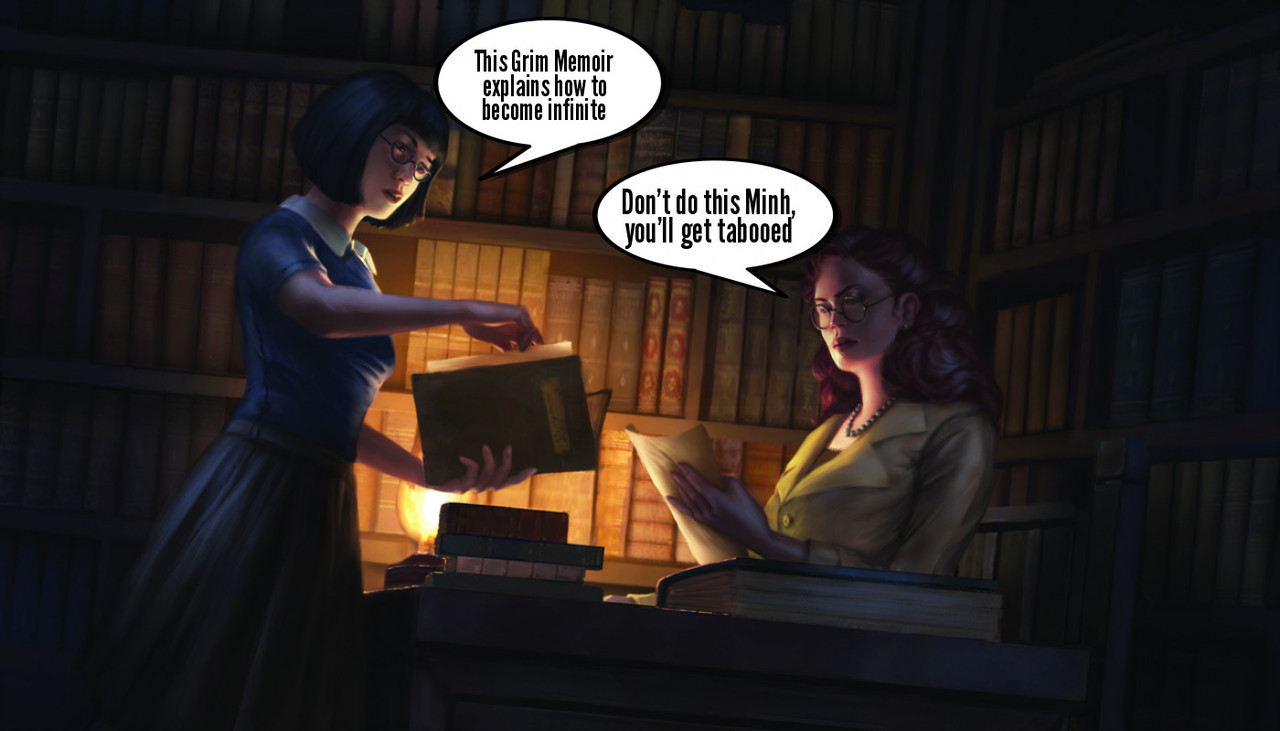 Credit: Andreia Ugrai
---
Introduction
Many of us were baffled when playing high-draw decks for the first time, occasionally enjoying this guilty pleasure with Amanda. Yet, one thing that Amanda didn't necessarily have was infinites in:
Clues
Fight, including Aloof enemies, skipping engage actions
Move
Healing
So let's see how Minh takes over the title of the most bonkers investigator from Amanda.
Disclaimer: This deck has the capacity to tear apart the fabric of ~~ Silas's Shirt~~ - reality... This is better played true solo because its sheer power can make anyone at your table feel like they came to The Minh Show.
In multiplayer, you can limit yourself or, better, self-tabooing Knowledge is Power as a non-fast event. The latter will make it a very good deck, just a bit more... balanced. If doing so, you can add a Scavenging (2) to cycle the Grim Memoir and keep your Knowledge is Power for fighting and healing.
---
After the 20k Series and its success, this 30k Series will focus on the investigators that are much harder to solve. Expect some jank, some outside-of-the-box thinking and hopefully some love for the underdogs of this game.
Click here to see all the previous decks. I will keep releasing a new standalone-ready deck concept every week on Friday, so stay tuned and keep pressing the ♥ button if you want to see more!
---
Table of Contents:
Overview

Main Strategy

Knowledge is the most powerful weapon against the Mythos

The rest of the game

Other Cards

Upgrade Path

Postscriptum - Taboo Suggestion
---
Overview:
 
Difficulty:
★★☆☆☆
Enemy Management:
★★★★★
Clue-getting:
★★★★★★
Encounter protection:
★★★★★
Survivability:
★★★★★
Economy:
★★★★☆
Card Drawing:
★★★★★★★★★★★★★★★★★★★★★★★★★★★★★★★★★★★★★★★★★★★★★★★★★★★★★★★★
---
Main Strategy:
---
Knowledge is the most powerful weapon against the Mythos:
Clues:
Use Knowledge is Power on Grim Memoir, committing Unrelenting and Perception (2) to cycle your deck.

Use Analysis during the test to drop a clue and reroll any inconvenient token, such as the -8 or .

This means dropping a few clues occasionally, but that also means as long as you have clues to drop, you are sure to succeed, even in Expert.

As Analysis was my appointed card during the TSK Preview season organised by @Veronica, I am thrilled not only to find a home for it but actually have it as a cornerstone of such a powerhouse deck.

Commit Eureka! for a cantrip that searches your deck. This is especially good when you just played your Knowledge is Power, and your other copy is in your deck among 3 other cards. Eureka! will allow you to keep going, greatly mitigating the risks of breaking the loop because of the lack of draw.

Commit Deduction for acceleration (otherwise, it takes a loooong time to collect the clues one by one).

Practice Makes Perfect helps if you haven't found Perception (2) or Unrelenting to maintain the loop, or Analysis to make your test failproof.

Cryptic Writings pay for Practice Makes Perfect.
Fight:
Use Knowledge is Power on Enchanted Bow to kill enemies at your location or a connecting location, also skipping any need to engage Aloof enemies. Retaliate is usually not an issue because Analysis has your back.
Absorb the horror:
Move:
If you need to move further than 2 locations away, you can investigate (even on an empty location) to trigger a deck cycle and find your Shortcuts again.
---
The rest of the game:
Scenario Tests and triggers:
These are the only ones that will spend your actions.
Because of Perception (2) and Mind over Matter, anything that is not a test is easy to pass and will maintain the loop for the following test.

If doing a scenario action that involves a test, you can initiate the loop during this test, which would be your last chance to do one during your turn.

For tests, Minh benefits from her great base stat, and we can use Analytical Mind, Eureka!, Unrelenting to go to high values and Analysis as our failproof tech.
Set up:
As a rule of thumb, the fewer cards you use during your first cycle, the faster you'll be ready to loop. The encounter cards you will draw will determine how many cards you will need to commit.
Overall, it's worth being a bit slower, taking damage/horror early, and even if it means power drawing during your first 2 turns, it is all worth it since you'll then be unstoppable later.
---
Random Basic Weaknesses:
The heavy-drawing mechanic can be heavily affected based on the weaknesses that you pull. Here are some leads on how likely it is to happen if using this deck and how to mitigate most of the unfortunate weaknesses:
RBWs that threaten the loop and ways to mitigate them:
Standalone Mode: Breaking the loop: 2/37 - Impacting the gameplay: 6/37
Narcolepsy: Complete blocker. You lose all your remaining actions every time you cycle. It's unlikely that you will keep this one, though, as you probably won't play this deck in full intensity in multiplayer.

A fun interaction would be that if you draw Narcolepsy while drawing multiple cards at the same time, and this causes your deck to shuffle, the horror from the shuffling will kick out Narcolepsy.

Through the Gates: Complete blocker. You lose more and more key cards with every deck cycle.

Amnesia - You could try to keep Cryptic Research in your hand. You will lose the infinite loop but still win the game because of how fast you draw.

Dread Curse: Add Fey and commit 2 to each test to mitigate the weakness significantly.

Overzealous: It can be challenging. Pack 2 Forewarned, and since you heal with Earthly Serenity, you should be fine.

Enemies: Existential Riddle disables them, so you can leave them on the table and forget about them.
Campaign Mode only: Breaking the loop: 3/43 - Impacting the gameplay: 8/43
Conclusion:
Campaign mode: 16% chance of having a detrimental weakness and 13% chance of having one of the 3 weaknesses that will kill the deck's mechanic.

Standalone Mode: 25% chance of having a detrimental weakness and 10% chance of having one of the 2 weaknesses that will kill the deck's mechanic, 5% if you are going true solo.

---
Other Cards:
---
Upgrade Path:
Disclaimer: This decklist is published in the version that I tested. The upgrade path is just one possible way to upgrade while maintaining the best experience and value of the deck. As these decks are made to be universally good, feel free to adapt them to your campaign and change the upgrade order around based on your experience.
---
---
---
Postscriptum - Taboo Suggestion: