Derived from
None. Self-made deck here.
Lily Resolves All Your Problems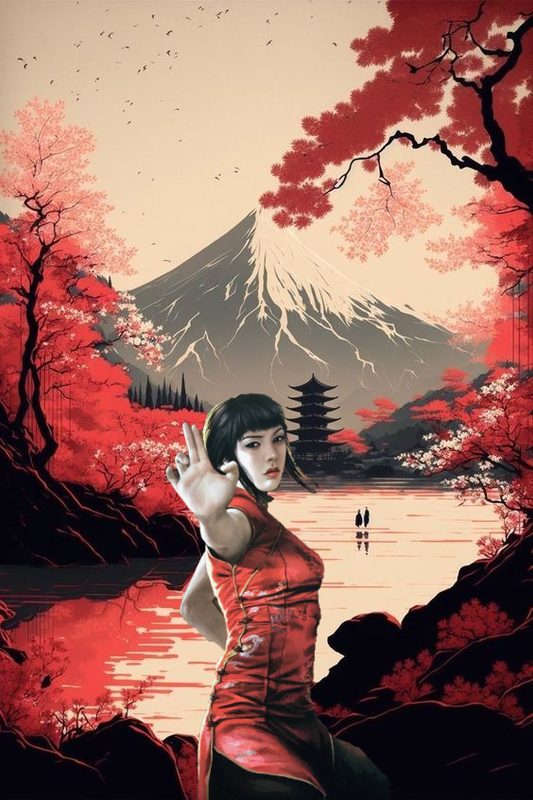 Credit: Paint 3D Magic Select tool. Special mention to Control+C and Control+V
---
Introduction
This deck arised from two premises:
Playing a magically enchanted staff feels very thematic and satisfying in Lily. Perhaps it's not the most optimal weapon choice, but it looks so cool in Lily's hands.

The Discipline is very powerful. It feels like a magic spell that Lily casts to empower her subsequent moves. However, it is hard to flip it back over once you use it.
These two ideas lead to Bestow Resolve: it takes an Arcane slot, which synergizes with Dragon Pole, and does a nice job in empting your hand (together with fast cards) to flip back over and abuse your Discipline.
.
---
Table of Contents:
Overview

Main Strategy

Deck Explanation

Other Cards

Deck Variations

Upgrade Path
---
Overview:
 
Difficulty:
★★★☆☆
Enemy Management:
★★★★★
Clue-getting:
☆☆☆☆☆
Encounter protection:
★★★★☆
Survivability:
★★★★☆
Economy:
★★★☆☆
Card Drawing:
★★★★★
---
Main Strategy:
---
Deck Explanation:
First thing first, you need to kill enemies. Mulligan everything that is not Dragon Pole, Backpack or Prepared for the Worst.

Your full killing setup implies Dragon Pole, Enchant Weapon, Reliable (potentially two) and two more Arcane assets (Enchant Weapon takes one).

This means a 13 / 3 Damage attack and subsequent 8 / 2 Damage attacks (+1 with a second Reliable).

Killing aside, the power of the deck comes from the rest of your cards, which enable you to support your teammates in many different ways (details explained in next section).

The core card here is Bestow Resolve.

It takes an Arcane slot, which synergizes well with Dragon Pole.
It converts many of your cards into Unexpected Courage to help your teammates pass tests. Particularly, useless Prepared for the Worst, Backpack, Spectral Razor and Eldritch Initiation are good targets.
It can convert a second copy of Enchant Weapon or your Soothing Melody into a +3.
It converts your Steadfast into a +6 to pass any key scenario test.
It synergizes very well with your Discipline, helping to empty your hand in one turn to flip it back over the next one.
Finally, note that you can commit several cards to a single test, that you can target a test in a connecting location and that it is not discarted when it runs out of charges.

Besides Bestow Resolve, you run many fast cards (Talisman of Protection, Premonition, Reliable, "Let me handle this!" and Ward of Protection) to help empty your hand and abuse your Discipline.
---
Other Cards:
Generate resources with Stand Together and Emergency Cache. The former is just an amazing support card which will make your teammates love you until the end of times.
---
Deck Variations:
---
Upgrade Path:
There are many paths you can follow in upgrading the deck from its present state. I will just mention some interesting options.
---
0-XP Version Example: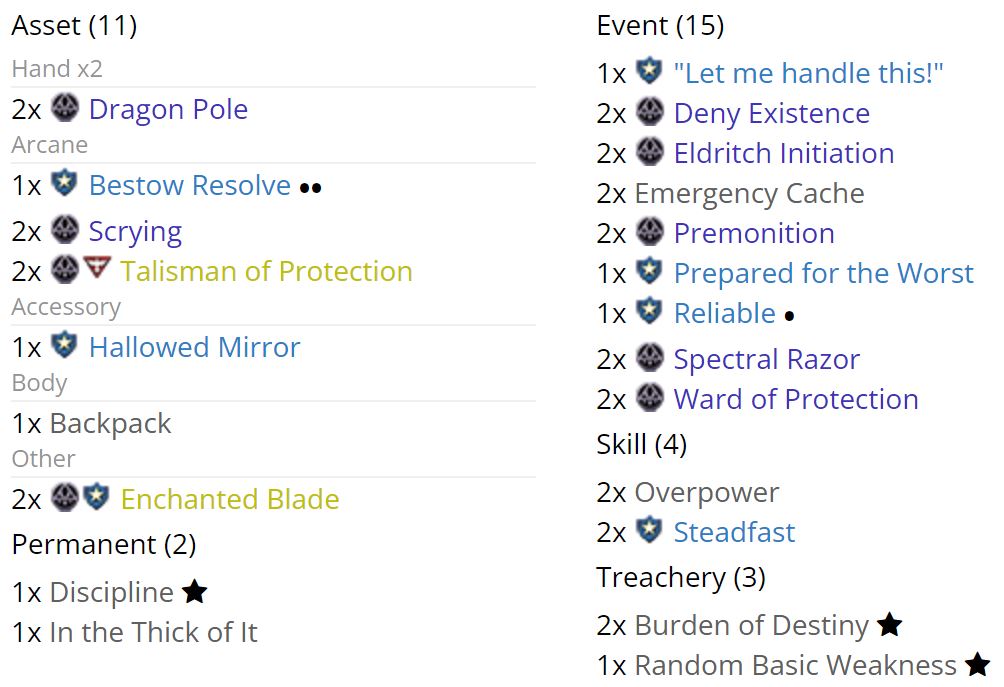 Upgrade Priorities
---
Any comments / ideas to improve it are very welcomed!
---
To create your own guides, find the fantastic template Valentin1331 has created here_