Wróg
Potwór. Wynaturzenie.
Fight: 6. Health: 1. Evade: 3.
Damage: 1. Horror: 2.
Masywny. Mściwy.
Pomiot Yog-Sothotha dostaje +1 do zdrowia i nie może otrzymywać obrażeń ani być atakowany inaczej niż przy pomocy zdolności Tajemniczej formuły.
Wymuszony - Po tym, jak Pomiot Yog-Sothotha wejdzie do twojej lokalizacji lub ty do jego: wykonaj test (3). Jeśli test zakończy się porażką, otrzymujesz 1 punkt przerażenia.
Victory 1.
Helge C. Balzer
Powrót Dziedzictwa Dunwich #45. Return to Undimensioned and Unseen #5.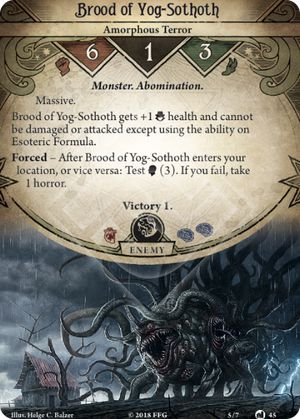 No review yet for this card.