Wróg
Humanoid. Cultist.
Fight: 2. Health: 3. Evade: 2.
Damage: –. Horror: 1.
Spawn - Any empty Historical Society location.
Aloof.
Forced - At the end of the mythos phase: Move 1 clue from Seeker of Carcosa's location to Seeker of Carcosa (if you cannot, place 1 doom on Seeker of Carcosa, instead).
Nick Deligaris
Echa Przeszłości #144. Echa Przeszłości #25-27.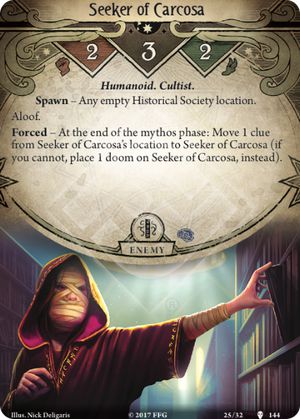 No review yet for this card.