Lokalizacja
Szpital św. Marii to jedyna taka placówka w mieście. Dyżuruje całą dobę i nawet w środku nocy jest ruchliwym miejscem. Ostatnie wydarzenia sprawiły, że doktor Mrtimore i siostra Sharon pracują w jeszcze wiekszym stresie niż zwykle.
Lokalizacja
Arkham.
Shroud: 2. Clues: 1.
: Wylecz 3 obrazenia. (Limit raz na grę).
Dłuższy pobyt w szpitalu św Marii potrafi zdziałać cuda dla ciała, jednak nie ma pewności, jak wpłynie na psychikę pacjenta.
Andreas Rocha
Podstawka #128. The Midnight Masks #9.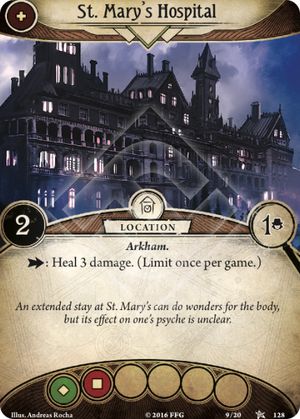 No review yet for this card.